Keep in mind most spreader rolls must turn synchronous with the web to operate properly.
Many times when I see bowed rolls and other spreader rolls not performing properly; it's due to the fact that they are no longer turning freely, at the same speed as the web. Sometimes I have even seen where spreader rolls no longer turn at all.
Bowed rolls, expanding surface rolls, concave rolls and nip type spreader rolls rely heavily on the web being in traction with their face. If you use these types of spreader rolls, make sure they turn with the web. If they do not, consider they may need maintenance (a new rubber surface or new bearings) or consider driving the rollers if necessary.
Properly turning spreader rolls ensure optimum wrinkle removal and slit separation.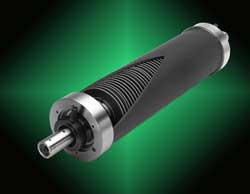 **DISCLAIMER - A great deal of time has been invested in the development of our weekly tech tips. To the best of our knowledge, they are accurate. It is up to the user to verify all results.

THE AUTHOR ASSUMES NO LIABILITY CONNECTED WITH THE USE OF THIS INFORMATION OR THE RESULTS OBTAINED FROM IT.