Your options when conveying trim or matrix with exposed adhesive
Do you pneumatically convey trim or matrix with exposed adhesive? Is that something you have considered?
You have a couple of choices when it comes to conveying materials with exposed pressure sensitive adhesive.
You may elect to use an oil injection system or powder to neutralize the adhesive, so that it will not stick to duct and other components in the pneumatic conveying system. This method is effective; however, keep in mind that it can be messy (especially over time) and attention to the delivery system is necessary to make sure the neutralizing agent is consistently applied to the adhesive (the oil reservoir for example).
Teflon or plasma coating can be used on all the exposed areas within the trim removal system to assure the adhesive will not stick to components. This method is also effective and one advantage is it is very clean and maintenance free. However, initial cost can be high.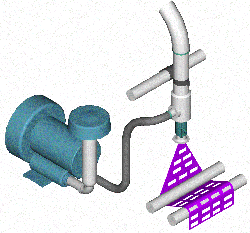 **DISCLAIMER - A great deal of time has been invested in the development of our weekly tech tips. To the best of our knowledge, they are accurate. It is up to the user to verify all results.

THE AUTHOR ASSUMES NO LIABILITY CONNECTED WITH THE USE OF THIS INFORMATION OR THE RESULTS OBTAINED FROM IT.