| | |
| --- | --- |
| | Tech tip for the week of January 24, 2022 |
Properly maintained safety chucks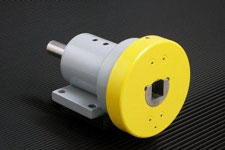 Properly maintained safety chucks include some mechanism for automatic closing and subsequently locking unwind or rewind center shafts. However, you can greatly decrease maintenance of your safety chucks simply by ensuring machine operators manually close them prior to the start of your machine. In other words, the automatic shaft locking feature of safety chucks is really only supposed to be a failsafe mechanism if the machine operator mistakenly does not close the safety chuck manually. In no case should an operation use the automatic locking feature of safety chucks to actuate the capture plate and lock unwind and rewind shafts as a normal case of machine operation.
Most safety chucks are available with pneumatically actuated capture plates to assist in manually closing the chucks. And most safety chucks are also available with proximity sensors to sense when capture plates are open and closed, allowing control logic and electronic indicators to help ensure capture plates are closed prior to machine start.

For more information on our safety chucks, click here or to see them in action, click here
© 2020 Converter Accessory Corporation
Join us and discuss this tech tip or anything converting at our LinkedIn Group page. This groups function is to develop into a beneficial discussion of all things converting, thus benefiting the industry as a whole - click here for our LinkedIn Group page


**DISCLAIMER - A great deal of time has been invested in the development of our weekly tech tips. To the best of our knowledge, they are accurate. It is up to the user to verify all results.
THE AUTHOR ASSUMES NO LIABILITY CONNECTED WITH THE USE OF THIS INFORMATION OR THE RESULTS OBTAINED FROM IT.