| | |
| --- | --- |
| | Tech tip for the week of April 6, 2020 |
Can Trim or Matrix with Exposed Adhesive be Chopped?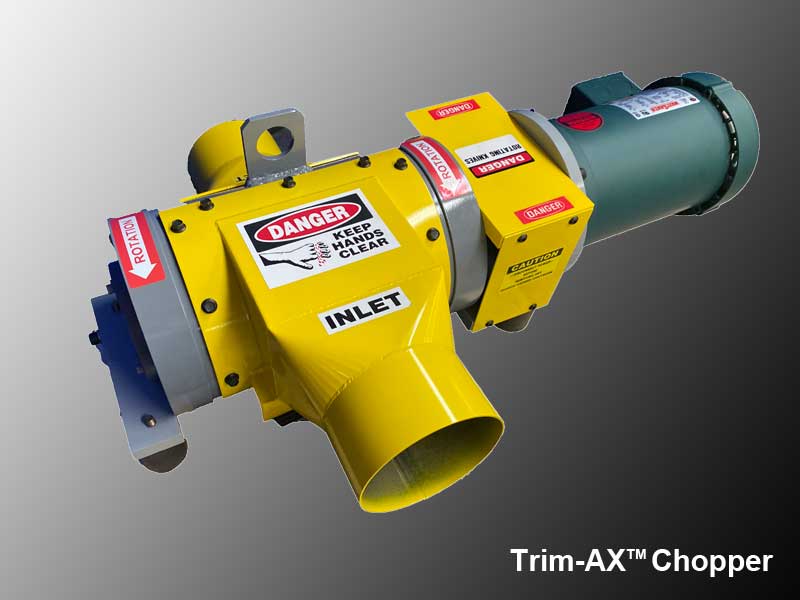 Customers often ask if their trim or matrix with exposed adhesive can be chopped. And the answer is YES. In fact, there are a few advantages to chopping trim and matrix with exposed pressure sensitive adhesives.
Often times, containment vessels fill and overflow rapidly when collecting sticky trim and matrix. This happens because the trim sticks to itself as it enters the collection point creating a semi solid pile of waste, which must be dealt with and discarded. Chopped pieces of trim and matrix will obviously still stick to themselves; however, the accumulated pile of pieces will be much denser and will take up much less space, over time, when compared to un-chopped trim and matrix.
Chopped pieces of trim and matrix with PS adhesive can be conveyed much longer distances than un-chopped materials. If you require long conveying distances, a chopper may be required.
Internal components of choppers designed to operate to handle adhesives must be Teflon or plasma (preferred) coated. Oil injection systems may also help choppers effectively handle PS adhesives. Regularly scheduled maintenance of the chopper to clean-out any accumulated adhesive is recommended. Required frequency of clean-out is dependent on the application.
© 2020 Converter Accessory Corporation
Join us and discuss this tech tip or anything converting at our LinkedIn Group page. This groups function is to develop into a beneficial discussion of all things converting, thus benefiting the industry as a whole - click here for our LinkedIn Group page


**DISCLAIMER - A great deal of time has been invested in the development of our weekly tech tips. To the best of our knowledge, they are accurate. It is up to the user to verify all results.
THE AUTHOR ASSUMES NO LIABILITY CONNECTED WITH THE USE OF THIS INFORMATION OR THE RESULTS OBTAINED FROM IT.