| | |
| --- | --- |
| | Tech tip for the week of November 23, 2020 |
Investing in an Anti-Wrinkle System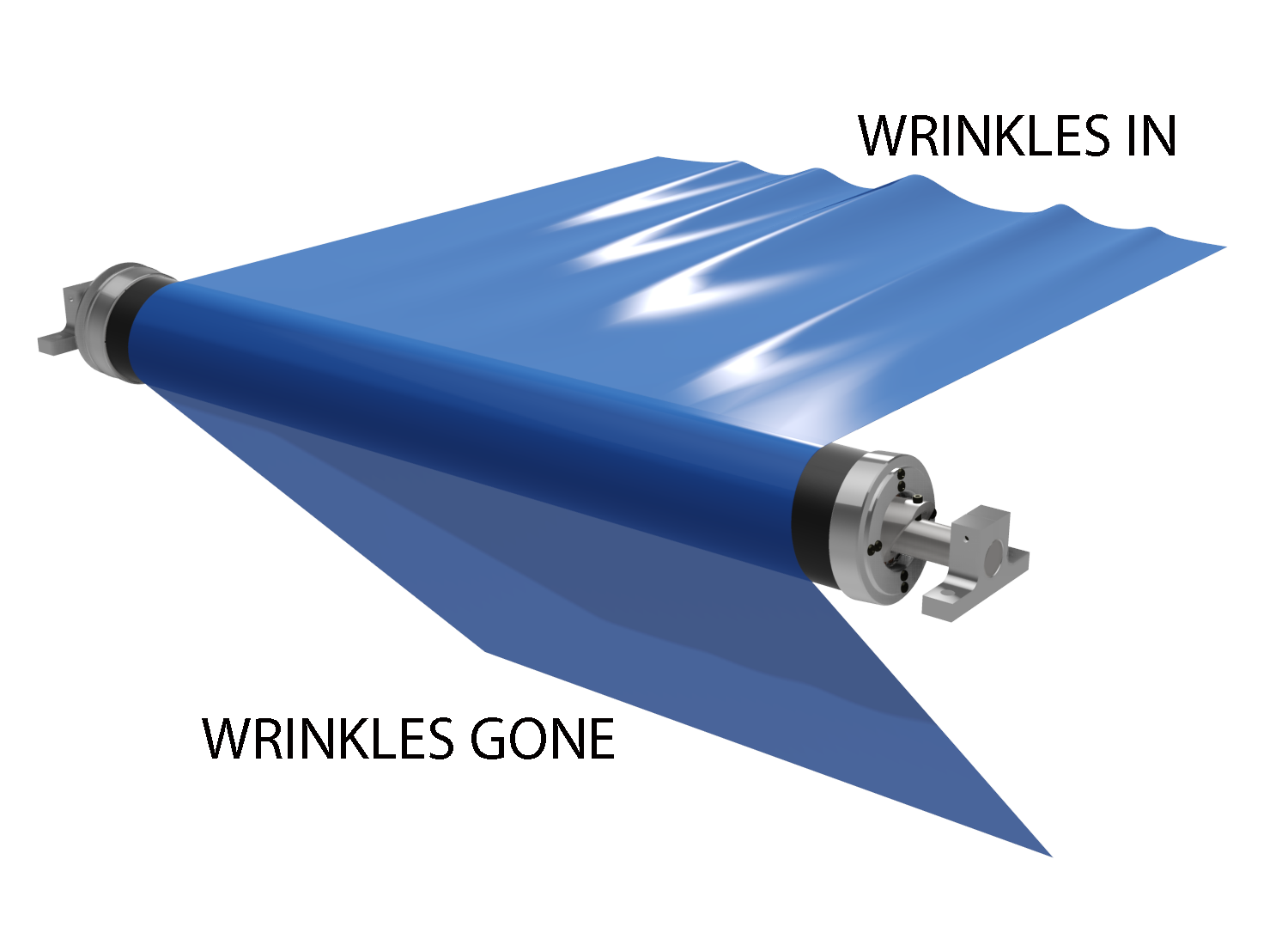 To provide your customers with what they need, you may be tasked with processing web materials you have not processed in the past. We all need to make investments which provide fast return on investment. One such investment you may want to consider is a proper anti-wrinkle system. Web wrinkles are one of the converting industry's biggest profit eaters. Proper anti-wrinkle systems can help increase your profits with almost immediate return on investment.
Consider these factors:
How much do wrinkles cost your operation? $100 per day, $1,000 or $10,000 a day or more?

When you consider how much web wrinkles cost your operation, you should consider wasted materials, wasted energy and wasted man hours as your fixed overhead. Consider customer satisfaction rates as well.

For this example let's say web wrinkles cost you a total out of pocket expense of about $100 per day. And the best anti-wrinkle system for your application will cost you $4,000.

Even IF the anti-wrinkle system only decreases your waste due to wrinkles by 50%. $4,000 divided by $50 per day (50% of $100) equals return on investment in just 80 days.

Any investment which pays itself off in under a year should be considered, closely. Return in 80 days is a no-brainer! Just buy it! Any delay is literally money lost due to avoidable waste.

If you do nothing, in this example, your out of pocket costs will be at least $25,000 per year based on 250 days worked per year.

Your equipment vendor should be able to prove return on investment to you for any product you purchase. But keep in mind, you need to communicate your costs in order to calculate ROI.
© 2020 Converter Accessory Corporation
Check out solutions for wrinkle free webs.
Join us and discuss this tech tip or anything converting at our LinkedIn Group page. This groups function is to develop into a beneficial discussion of all things converting, thus benefiting the industry as a whole - click here for our LinkedIn Group page
Jeff Damour


**DISCLAIMER - A great deal of time has been invested in the development of our weekly tech tips. To the best of our knowledge, they are accurate. It is up to the user to verify all results.
THE AUTHOR ASSUMES NO LIABILITY CONNECTED WITH THE USE OF THIS INFORMATION OR THE RESULTS OBTAINED FROM IT.