| | |
| --- | --- |
| | Tech tip for the week of June 14, 2021 |
Edge trimming is a necessary evil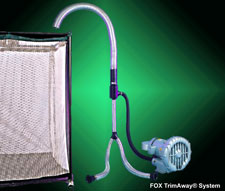 Edge trimming is a necessary evil. No matter how you handle it, edge trim will always cost you money. Here are some tips to keeping your edge trim costs to a minimum:
Keep edge trim width at a minimum. If you are edge trimming more than one inch wide. It's time to ask yourself why. Oftentimes people wind their edge trim and must keep the width wider than necessary just to be able to wind a roll. If this is true for your operation, consider using pneumatic edge trim removal.
Are you using compressed air to remove edge trim? If so, stop! Compressed air is extremely expensive, not to mention the maintenance costs associated with overtaxing your air compressor. Your air compressor will thank you for not killing it.
Do you make machine stops just to change scrap rolls? If you do, consider all the costs of stopping your machine to remove a roll of scrap (more cost). Pneumatic waste removal runs continuously and is designed to run 24/7.
Do not oversize and do not undersize a pneumatic waste removal systems. Communicate all of your operating specifications to any potential supplier of pneumatic waste removal equipment. Make sure any potential supplier of pneumatic waste removal equipment has a broad range of systems and sizes from which to choose. Oversized systems waste energy and you must absorb those associated costs. Undersized systems will clog or possibly demand you run your machine slower than possible again costing you money. Properly sized systems should remove all of your trim at maximum machine speed without costing you undue energy consumption.
Bottom line, properly handling your edge trim and other scrap will keep costs to a minimum, adding to your profits, especially in the long run.
© 2020 Converter Accessory Corporation
index.php
Join us and discuss this tech tip or anything converting at our LinkedIn Group page. This groups function is to develop into a beneficial discussion of all things converting, thus benefiting the industry as a whole - click here for our LinkedIn Group page


**DISCLAIMER - A great deal of time has been invested in the development of our weekly tech tips. To the best of our knowledge, they are accurate. It is up to the user to verify all results.
THE AUTHOR ASSUMES NO LIABILITY CONNECTED WITH THE USE OF THIS INFORMATION OR THE RESULTS OBTAINED FROM IT.