ShaftLok™ Safety Chuck Unwind Module with Skew Adjust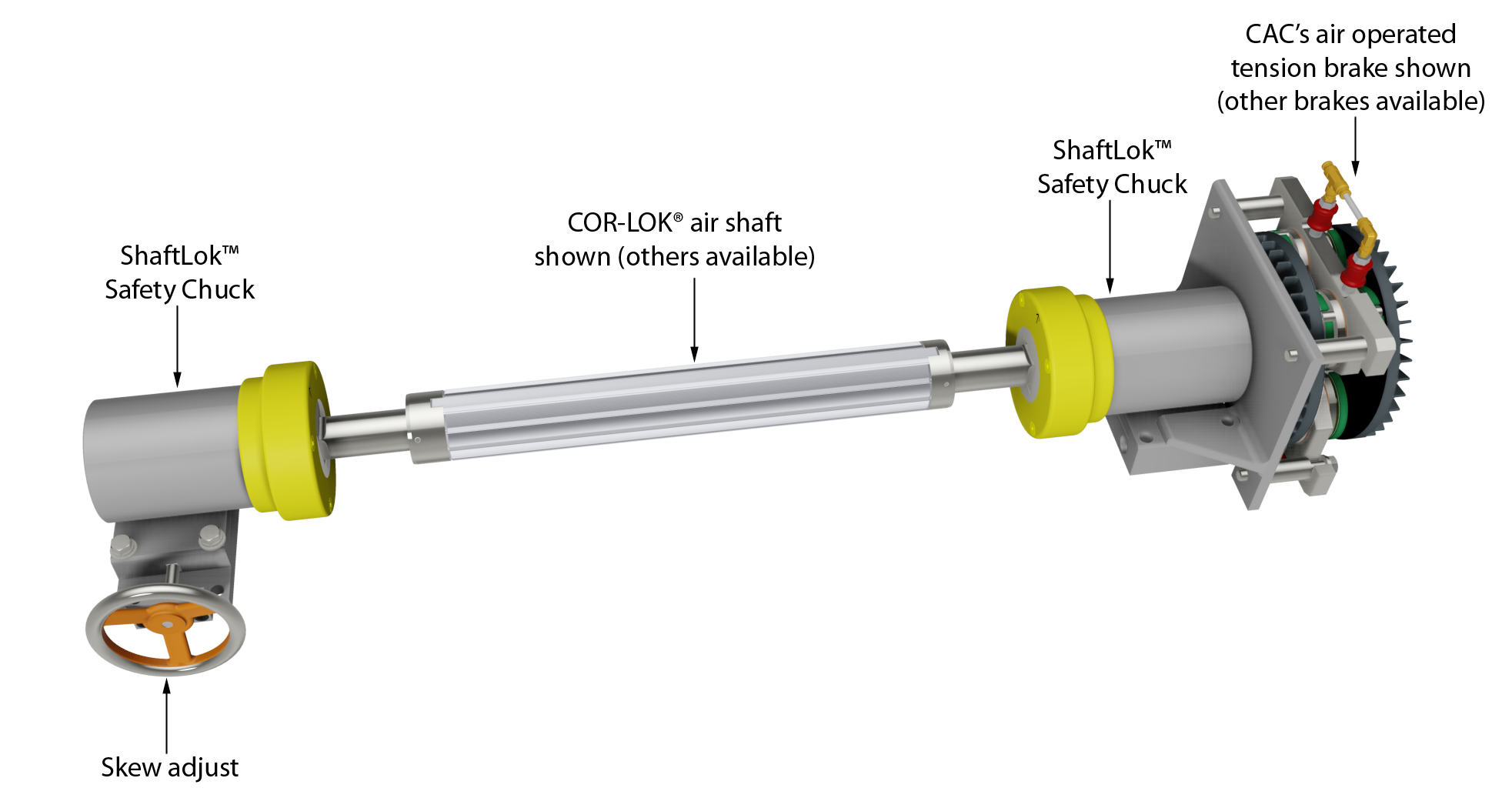 ShaftLok™ safety chuck modules are the perfect answer where the addition or upgrade of an unwind or rewind station is required. These modules work extremely well where easy installation of better braking or drive systems are desired. Heavy duty steel construction provides years of reliable operation. ShaftLok safety chucks include shaft capture plates which actuate axially with no pinch points for safe operation.
Designs may include CAC's air operated tension brake and CAC's COR-LOK® air shafts for a complete unwind and rewind module solution. These modules may also be supplied with other brakes and / or air shafts at your request.
ShaftLok™ safety chuck module with skew adjustments is an effective solution to misaligned rolls and rollers. Skew adjustment of +/- 0.5" helps combat issues with even the worst tight-side / loose-side condition rolls.
CAC currently has several models available for your application: Standard, Medium or Heavy Duty. Our safety chucks open only in the up position allowing a safe, easy unload operation and automatically lock to hold rotating shafts. Replaceable shaft cradles and inserts are available for square, diamond, triangle, 1/2 round, round and custom shaped shafts and shaft ends as well as custom drive extensions.
ShaftLok™ safety chucks operate flawlessly and are perfect for low to high speed applications. Available in several models able to handle loads and roll weights up to 10,000 lbs, these extra heavy duty steel constructed chucks also include heavy duty ball bearings.
Unlike conventional safety chucks, the unique design of the CAC ShaftLok™ safety chuck provides a no pinch point shaft locking device that offers a level of worker safety unequalled by any other shaft locking system.