Cantilevered Air Shaft Options
If your process utilizes cantilevered air shafts, you have a multitude of designs to choose from to enhance your roll loading and unloading process.
Standard cantilevered air shafts typically use an industry standard inflating gun, which mate up with an industry standard valve, mounted on the air shaft face. These air shafts are the simplest of the designs listed here and are typically the most inexpensive when considering initial cost of a project.


Cantilevered air shafts can be designed with a remote toggle valve inflate / deflate operation. These air shafts have built-in pneumatic rotary unions with allow a stationary air supply to coupled to the rotating air shaft. A remote located (typically mounted to the machine frame) two position, 3 port (on, off, exhaust) toggle valve is used to inflate and deflate the cantilevered air shaft to facilitate loading and unloading rolls of material from unwind and rewind stations. This modification allows for faster / easier roll changes than the standard, inflating gun design.


Cantilevered air shafts can be designed with built-in lateral adjust. Typically these designs include facilitating the lateral adjustment "on the fly" while the machine is running. Manual lateral adjustment is handy when your machine operator wants to position the web, laterally without stopping the machine, deflating the air shaft and reposition the roll. Bottom line, this modification can really speed up your overall setup process if lateral web position is a concern. This air shaft can be designed to utilize the standard inflating gun inflation method or the remote toggle valve inflation method.


Built-in toggle valves (as opposed to remote located toggle valves) are available for cantilevered air shafts. This design includes all of the advantages of other toggle valve designs but the valve is in a much more convenient location. Basically, the toggle valve is built right in to the end of the air shaft, so when the operator goes to load or unload a roll of material, the valve is in his or her immediate location.
Cantilevered air shafts are available in many designs. Be sure you understand the benefit of each design, so you can make the best decision for your needs. Initial costs of some designs may be higher than more standard designs but typically, ease of machine set-up will provide fast return on investment.
Click here to view Lateral Adjust COR-LOK air shaft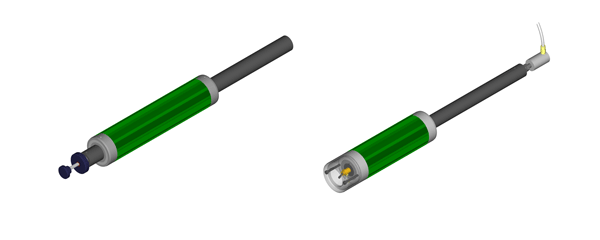 Jeffrey Damour, Sales Engineer, Converter Accessory Corporation, Wind Gap, PA,
Phone - 800-433-2413
**DISCLAIMER - A great deal of time has been invested in the development of our weekly tech tips. To the best of our knowledge, they are accurate. It is up to the user to verify all results.

THE AUTHOR ASSUMES NO LIABILITY CONNECTED WITH THE USE OF THIS INFORMATION OR THE RESULTS OBTAINED FROM IT.