Air Shaft Deflection
In past articles we have discussed the benefits of cantilevered air shafts for use in unwinding and rewinding applications for ease of operation, loading and unloading. These air shafts are available with many different options, unique to cantilevering, again, these options have been discussed in previous articles. These added features make cantilevered air shafts even more attractive.
Applications allowing cantilevered unwind and rewind air shafts are limited. The limiting factor being deflection. Since truly cantilevered shafts are supported on one side only, they deflect much more than their dual supported counterparts. The bearing support becomes a fulcrum point, so any minor deflection or movement at the bearing support can turn into a major amount of movement at the cantilevered end of the shaft.
When the air shaft deflects under the weight of the unwind or rewind roll, you are in effect, skewing the unwind or rewind roll to the rest of the rollers and processes in your machine. Just like any roller in your machine, your roll of material should be parallel and square to the rest of the rollers in the process. Skewed rolls and rollers can cause web handling problems such as misalignment and web wrinkles.
One consideration is how much deflection your web and process can actually accept before it becomes a problem. For example, if you are processing heavy sand paper, this type of web can typically allow much more deflection than a .0005" thick low density polyethylene. Other factors such as machine speed as it pertains to machine vibration can also come into play.
Your cantilevered shafts must be designed with enough stiffness to limit deflection to allowable amounts for your application. And of course, bigger (diameter) is better - I know, an obvious statement, but one that should be mentioned. So first you must determine how much deflection at your unwind or rewind roll your process can accept and still produce acceptable end product. Then a calculation must be made relative to your roll weight, core diameter, roll width and support shaft or journal diameter to actually tell you what the approximate deflection may be.
To assist with estimating deflection, CAC has published several deflection calculators here: http://www.converteraccessory.com/ss/index.php. Now for the disclaimer - These calculators are meant only as a guideline. Each application should be reviewed under the scrutiny of a qualified engineer to validate actual conclusions.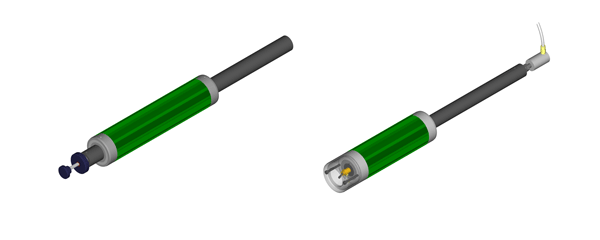 Jeff Damour, Converter Accessory Corporation
800-433-2413, jdamour@converteraccessory.com
**DISCLAIMER - A great deal of time has been invested in the development of our weekly tech tips. To the best of our knowledge, they are accurate. It is up to the user to verify all results.

THE AUTHOR ASSUMES NO LIABILITY CONNECTED WITH THE USE OF THIS INFORMATION OR THE RESULTS OBTAINED FROM IT.