Choose the proper brake and / or clutch for your operation
There are a lot of different types of brakes and clutches on the market. There are many different manufacturers and each manufacturer has their own design and usually several sizes and models from which to choose. So, with all the choices available to you, many times it may seem difficult to choose the best brake or clutch for you and your operation. Here are some guidelines, that may help in your decision:

The brake or clutch must handle the torque range your application requires. The keyword is range. Whatever brake or clutch you are considering for your application it must operate through the minimum to maximum torque required for your desired web tension range, at your minimum to maximum web width, and through your maximum roll diameter to core outside diameter.
The brake or clutch must handle the horsepower (heat dissipation) required for your application.
There is an online calculator located on CAC's website that can help you determine your required torque range and horsepower. It is located on our formula page.

Before you use the calculator you will need to have the following information available:
Maximum roll diameter
Core outside diameter
Minimum running speed in feet per minute
Maximum running speed in feet per minute
Minimum desired web tension in pounds per linear inch
Maximum desired web tension in pounds per linear inch
Minimum web width
Maximum web width
Maximum roll weight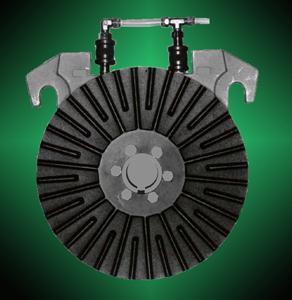 **DISCLAIMER - A great deal of time has been invested in the development of our weekly tech tips. To the best of our knowledge, they are accurate. It is up to the user to verify all results.

THE AUTHOR ASSUMES NO LIABILITY CONNECTED WITH THE USE OF THIS INFORMATION OR THE RESULTS OBTAINED FROM IT.