Causes of Web Wrinkles - Part 2 of 2
In part 1 of this tech tip we discussed some web characteristics that can be the cause of wrinkles in our webs. The causes discussed were gauge and band variations, tight sides/loose sides, and baggy centers, tight edges. In part 2 we will be covering:
Baggy edges, tight centers. The web being longer on the edges than the center, in the machine direction, causes this condition. If you were to lay material with this characteristic, flat, then you would see ripples or bubbles develop on the edges while the center was straight and flat. In a converting process, webs with this material characteristic will wrinkle because most of the tension that is typically evenly distributed across the full width is mostly distributed on the shorter (machine direction) center than longer (machine direction) edges. Tensile stress in the center will create lateral compression on the edges of the web causing wrinkles.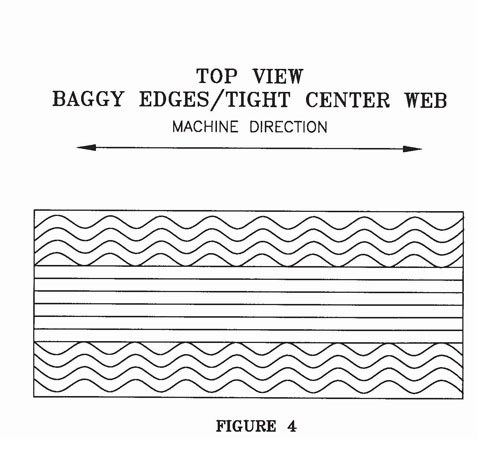 Poorly wound roll stock( parent roll) will cause wrinkles for the following reasons:
Tension too high especially at the outer layers of the roll can cause inner layers to buckle. This is evident by viewing the end of the roll and observing a starring effect. In extreme cases, the core may even be collapsed. This roll characteristic will cause the web to be wrinkled before it enters a converting process.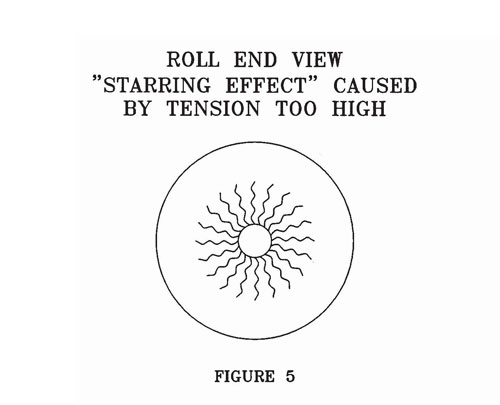 Tension too low will cause the roll stock to be wound loose. Layers will slip on each other, making tension control ineffective or intermittent. This will cause the material to neck down (under tension) and expand (when tension is low or nonexistent). These compression and decompression forces will create web wrinkles.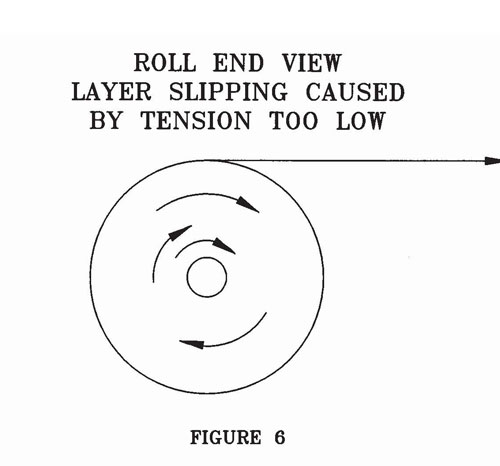 One or a combination of any or all of the five circumstances discussed will cause wrinkles.
**DISCLAIMER - A great deal of time has been invested in the development of our weekly tech tips. To the best of our knowledge, they are accurate. It is up to the user to verify all results.

THE AUTHOR ASSUMES NO LIABILITY CONNECTED WITH THE USE OF THIS INFORMATION OR THE RESULTS OBTAINED FROM IT.