Air Chucks B2 series
with Schrader inflating valve
The Field-Proven Concept in Core Locking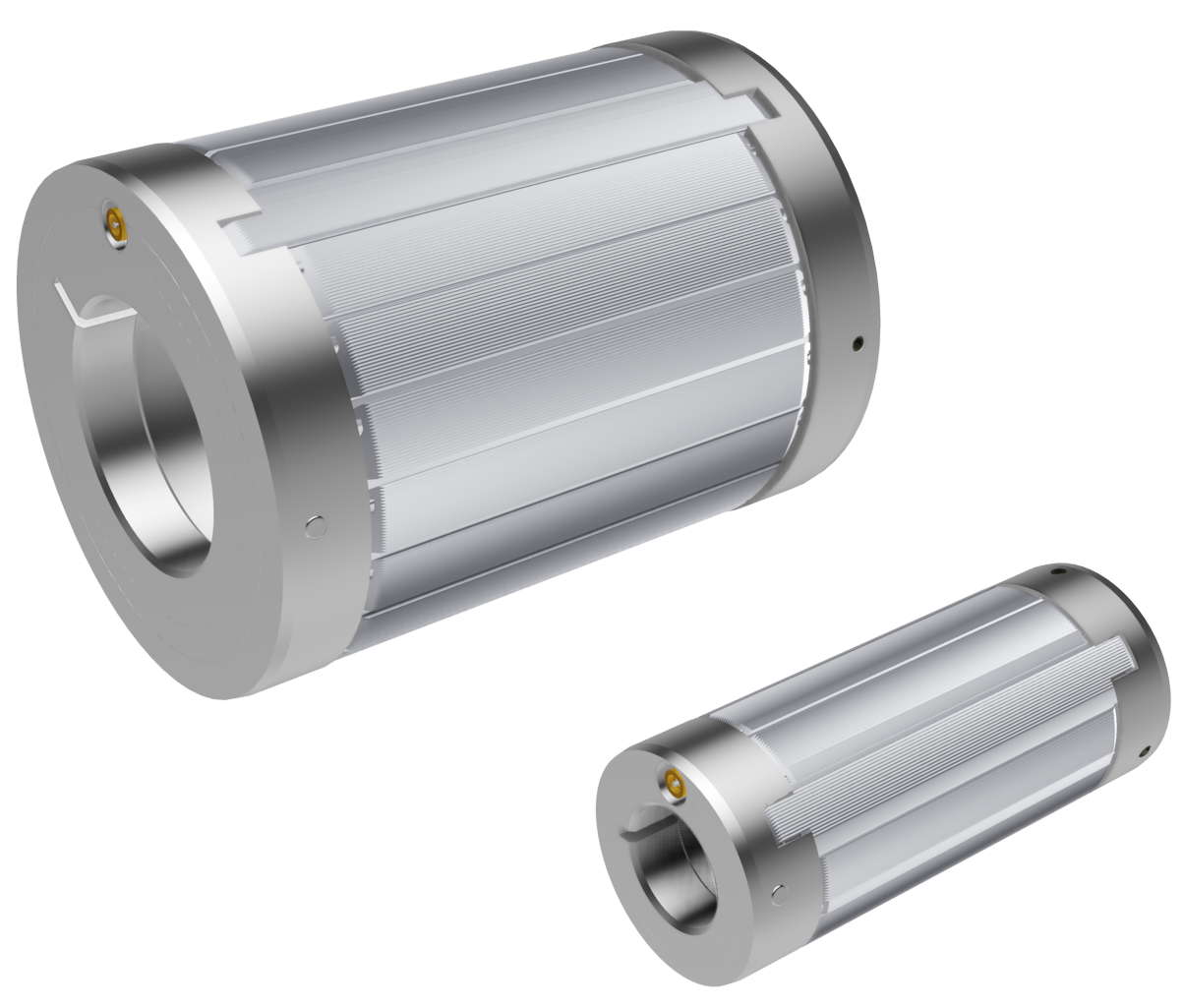 Unique Air Chuck for Unwinding and Rewinding

COR-LOK air chucks are different. Their unique design provides high-torque core locking with zero core damage. COR-LOK B2 series air chucks utilize inflating tube engineered to fit the COR-LOK spiral internal housing. Inflating the air shafts with pressurized air will actuate COR-LOK's interlocking segments to engage the core and lock it in place. These interlocking segments expand evenly around the circumference and across the width of the core, ensuring even torque distribution in the core's inside diameter. This means your cores will not slip and will not distort during the unwind / rewind process.

Standard air chucks are supplied with thru bores, regardless of length. They may be mounted to any thru bar / shaft; locked in place with CAC's unique split bushing design. Custom designs are available with thru shafts or mounted journals. Standard air chucks may be used in cantilevered and dual support applications.


Features:
Lightweight - easy to use
Interlocking segment design is easy to slide in and out of cores for fast roll changes
High torque output to ensure your cores stay locked - no core slipping
Interlocking segment design insures zero core damage
Perfect replacement / upgrade from tire chucks
Engineered inflating tube (bladderless)
Built to last
15 Minute maintenance
3" to 12" Diameter cores
Industry standard inflation valve (PTV valve)
Aluminum (standard), steel, stainless steel and carbon fiber construction available
Thru bore design (standard)

Standard designs
Combine with CAC's unwind and rewind modules for a completed eingeered solution
Stocked for 3" and 6" diameter cores - check CAC's stock list
Made in the USA
Click filename to view Specification Sheets
Filename
Description
18503-37
COR-LOK® Air Shaft with thru bore
18503-38
COR-LOK® Air Shaft with Journals or Thru Shaft
18503-86
COR-LOK® Shaft for Cantilevered Mounting
18503-39
Cantilevered COR-LOK® Air Shaft w/ Rotary Union
18503-224
6 inch Tandem COR-LOK® Air Chucks
18503-341
6 inch Tandem COR-LOK® Air Chuck Style Core Adapter
18503-356
COR-LOK Air Chuck with Schrader Valve for 3 inch Cores
18503-357
COR-LOK Air Chuck with Schrader Valve for 6 inch Cores
Inside CAC's COR-LOK® Air Chucks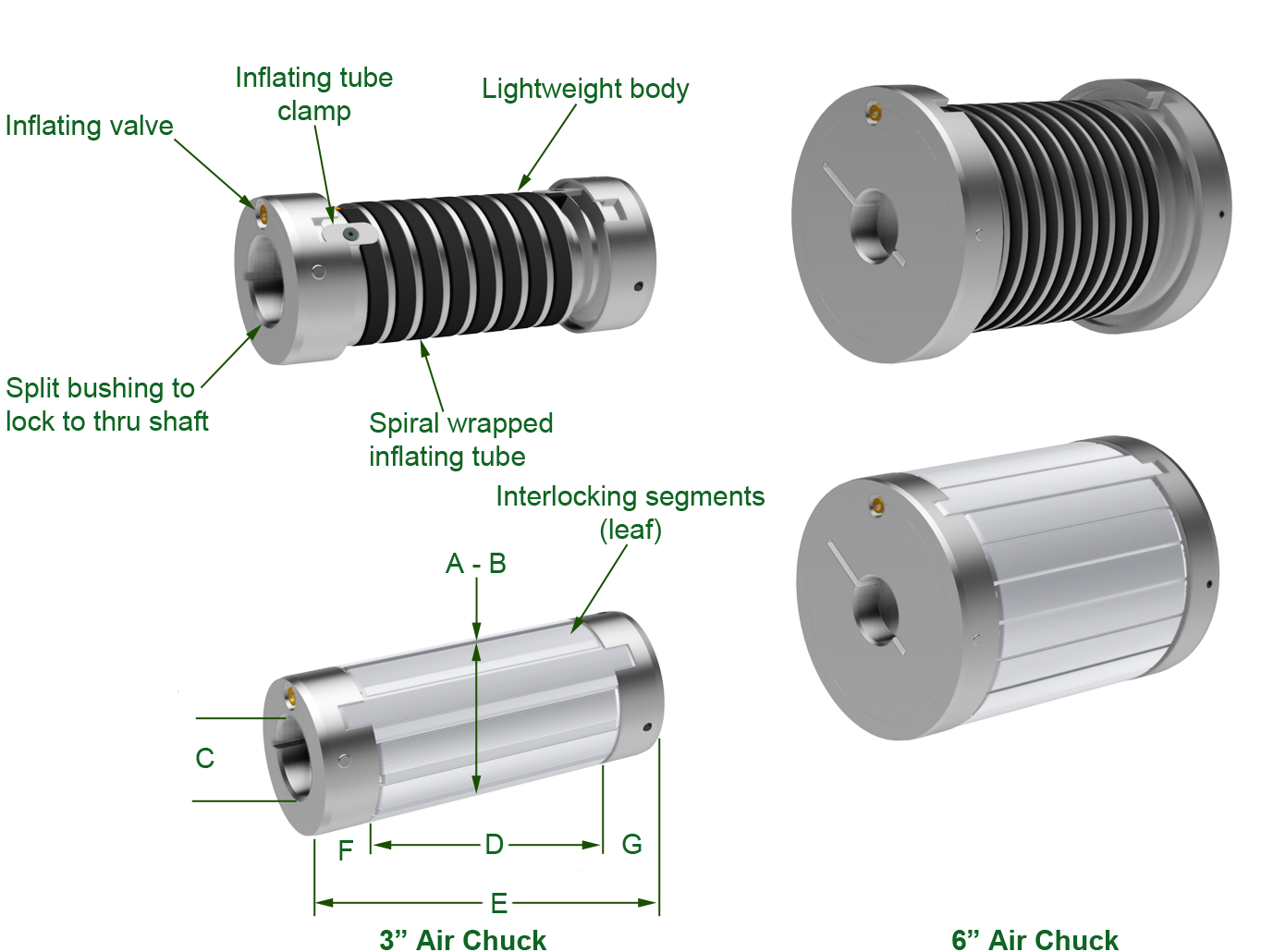 COR-LOK® air chuck dimensions
A
B
C
D
E
F
G
Core size
Deflated
diameter
Inflated
diameter
Bore
range
Expanding length
Overall
length
End cap,
valve end
End cap,
plain end
Approx.
weight
3
2-15/16
*3-1/8
Up to 1-3/4
5
7
1
1

2 lbs

4
3-15/16
4-3/16
Up to 2-1/2
5
7
1
1

2-1/2 lbs

5
4-15/16
5-3/16
Up to 3
5
7
1
1

3 lbs

6
5-15/16
6-3/16
Up to 4
6
8
1
1

12-1/2 lbs

6-3/4
6-11/16
6-7/8
Up to 4
6
8
1
1

13 lbs

7
6-15/16
7-3/16
Up to 5
6
8
1
1

13 lbs

8
7-15/16
8-3/16
Up to 6
6
8
1
1

15 lbs

9
8-15/16
9-3/16
Up to 7
6
8
1
1

17-1/2 lbs

10
9-15/16
10-3/16
Up to 8
7
9
1
1

22 lbs

11
10-15/16
11-3/16
Up to 9
7
9
1
1

25 lbs

12
11-15/16
12-3/16"
Up to 10
7
9
1
1

27 lbs

Notes:

All dimensions in inches. Thru bores machined .010"-.015" oversized unless otherwise specified.
Custom and metric core sizes available, please contact us at (800) 433-2413 or sales@converteraccessory.com for more information.

*3-3/16" inflated diameter is attainable with leaf and retainer design (only). Contact us for more information.
CAC's Lightweight Thru Shaft
Lighten your load with our lightweight thru shaft. CAC's thru shaft is manufactured from hallowed tubular steel and offers a light weight solution with a lot of beam strength for heavy rolls of material. It is a very attractive way to provide a much lighter core support solution. Beam strength primarily is from the outside diameter, the small amount of stiffness lost with the hallowed design is well worth the benefits. We offer solid steel ends to fit your needs.
Couple our lightweight thru shaft with our core support products to achieve a complete solution. Customize your solution by using our end plug and air shaft, or ShaftLok™ safety chucks. Increase productivity and reduce employee injury with this effective, low cost option.
Contact us today so we can discuss how we can provide a solution for your specific needs.
Click filename to view Specification Sheets
Filename
Description
18503-373
Steel Thru Shaft
18503-374
Lightweight Thru Shaft
CAC COR-LOK® Air Shafts and Air Chucks are manufactured under U.S. Patent Numbers: 3825167, 3917187, 3937412, 4124173 AND 4944468