| | |
| --- | --- |
| | Mechanical Chucks |






6" Mechanical Chuck

3" Mechanical Chuck
When making a decision about the core support system best suited for your application, keep in mind the simplicity of design of these chucks which assures reliable operation.
Unlike the core cones, the chucks are supplied with the same split bushing design used in our COR-LOK® Air Chucks and Shafts, preventing possible damage to the thru shaft.
These chucks do not require any compressed air to operate. They engage and lock the core without tools or any external operation by the machine operator. When your roll starts to rotate, these chucks automatically engage your core and lock it in place. Unique locking element, no springs, no teeth.
COR-LOK® mechanical chucks are an excellent answer where heavy duty, high torque core support is required. They work equally well for light duty applications. They are available in aluminum, steel and stainless steel (body only).
Ease of installation provides another reason for choosing this solution to core support problems. Simply slip the chuck onto the thru shaft, clamp split bushing to shaft with the set screws provided, load the core and you're ready to run.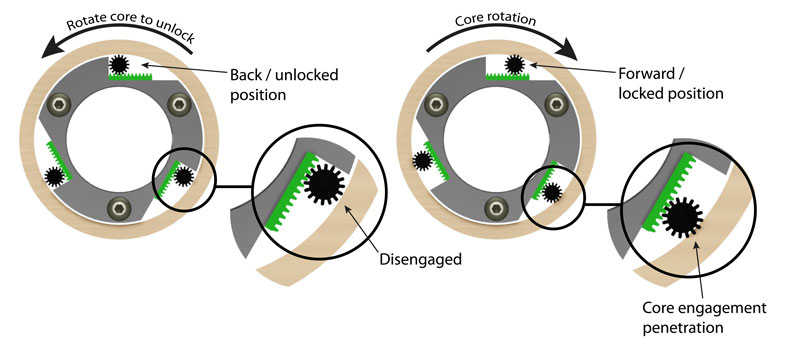 Features and Benefits:
Available in 2" to 12" diameter
Various body lengths available to accommodate heavier rolls longer cores
Standard model manufactured in aluminum
Heavy duty models manufactured in steel
Maintenance free
Load sensitive - the greater the load the greater the gripping
Backed by CAC's over 49 years of experience designing and manufacturing Mechanical Chucks
See them in action!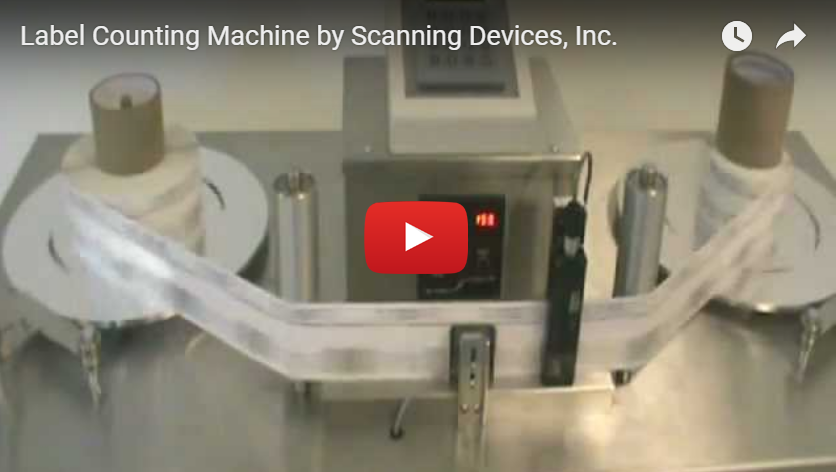 Click filename to view Specification Sheets
Filename
Description
18503-78
2" COR-LOK® Mechanical Core Chuck
18503-18
3" COR-LOK® Mechanical Core Chuck
18503-65
4" COR-LOK® Mechanical Core Chuck
18503-43
6" COR-LOK® Mechanical Core Chuck
18503-358
COR-LOK® Mechanical Shaft for 3 inch Cores
18503-359
COR-LOK® Mechanical Shaft for 6 inch Cores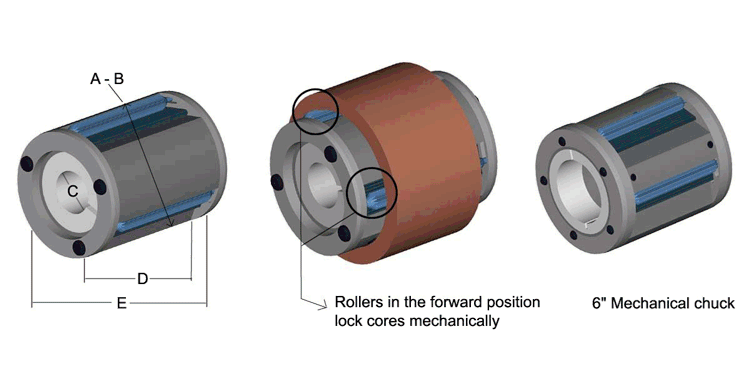 COR-LOK® mechanical chuck dimensions
To fit core size
A
Unlock
diameter
B
Locked
diameter
C
Bore range
D
Locking face
E
Over all length
F
End cap
2"
2.023"
2.122"
Up to 1"
3.250"
3.750"
.250"
3"
3.022"
3.122"
Up to 1.75"
3.250"
3.750"
.250"
4"
4.033"
4.122"
Up to 3"
3.250"
3.750"
.250"
5"
5.014"
5.122"
Up to 4"
3.250"
6.500"
.250"
6"
6.015"
6.239"
Up to 4"
5.000"
6.500"
.750"
6 -3/4"
6.779"
6.896"
Up to 4"
5.000"
6.500"
.750"
7"
7.029"
7.146"
Up to 5"
5.000"
6.500"
.750"
8"
8.029"
8.146"
Up to 6"
5.000"
6.500"
.750"
9"
9.029"
9.146"
Up to 7"
5.000"
6.500"
.750"
10"
10.029"
10.146"
Up to 8"
5.000"
6.500"
.750"
11"
11.029"
11.146"
Up to 9"
5.000"
6.500"
.750"
12"
12.029"
12.146"
Up to 10"
5.000"
6.500"
.750"
NOTE: Thru bores machined .010" - .015" oversized unless otherwise specified.
NOTE: COR-LOK mechanical shafts are available with custom locking face lengths.
Diameters for non-standard and metric core sizes are available
Please contact us at 800-433-2413 or e-mail sales@converteraccessory.com
for more information on custom locking face lengths and non-standard and metric core diameters.
CAC's Lightweight Thru Shaft
Lighten your load with our lightweight thru shaft. CAC's thru shaft is manufactured from hallowed tubular steel and offers a light weight solution with a lot of beam strength for heavy rolls of material. It is a very attractive way to provide a much lighter core support solution. Beam strength primarily is from the outside diameter, the small amount of stiffness lost with the hallowed design is well worth the benefits. We offer solid steel ends to fit your needs.
Couple our lightweight thru shaft with our core support products to achieve a complete solution. Customize your solution by using our end plug and air shaft, or ShaftLok™ safety chucks. Increase productivity and reduce employee injury with this effective, low cost option.
Contact us today so we can discuss how we can provide a solution for your specific needs.
Click filename to view Specification Sheets
Filename
Description
18503-373
Steel Thru Shaft
18503-374
Lightweight Thru Shaft